---
Curriculum Intent
The intent of the Blue Coat School Sociology curriculum is to engage, inspire and challenge students, equipping them with specific Sociology knowledge and skills. These include the use of evidence to support arguments, how to investigate facts and critical thinking. This will be via a broad and ambitious set of learning opportunities linked to the whole school CHRIST values and will offer students the opportunity to develop confidence and competence in sociological theories, perspectives and methods. Students will also acquire knowledge and a critical understanding of contemporary social processes and social changes; appreciate the significance of theoretical and conceptual issues in sociological debate; understand and evaluate sociological methodology and a range of research methods through active involvement in the research process; develop skills that enable them to focus on their own personal identity, roles and responsibilities with society and to develop a lifelong interest in social issues.
We aim to develop our student's knowledge and understanding of Sociological areas, such as Education, Crime and Deviance, Families and Households & Beliefs in society. Finally, we aim to develop students who are able to demonstrate their knowledge and understanding of sociological theories, concepts and evidence, as well as research methods; that they can apply this knowledge to a range of issues and that they can analyse and evaluate this knowledge to present arguments, make judgements and draw conclusions. Excellence within Sociology would mean each pupil leaving Blue Coat School with a sound grasp of the content outlined by AQA but also students who are able to think critically and reflectively; have an awareness of social structure and social action and students that have been encouraged through their study of Sociology to actively engage with the contemporary social world. Our subject allows all students to develop socially through collaborative tasks, yet also to develop the confidence to work individually and demonstrate the skills of application, analysis and evaluation.
Our intention is that all learners, whatever their prior attainment, will experience a challenging curriculum, that builds them in scaffolded stages towards becoming a confident and socially aware individuals. Sociology is an area which is attractive to students themselves, as well as future academic institutions and employers, because it develops a range of valuable skills, including critical and analytical thinking, writing ability, cultural competence, and self-awareness. These skills are particularly relevant to young people and are transferable to further study and the workplace. Students will be enabled to use this classroom learning beyond school and apply them to a range of real-world situations.
Teaching and Learning
In Sociology we believe in delivering an ambitious yet highly inclusive curriculum to all. Our vision for Teaching & Learning is to ensure all students access the "full" curriculum and learn the breadth of content.
Our staff have high expectations of all pupils and focus on embedding our 3Rs:
Ready
Respectful
Responsible
All lessons focus on embedding the whole school Blue Coat approach:
Explaining and Modelling
Do & Practice
4forAll Toolkit leading to inclusive practice:

Key words/Reading
Use of time
Chunk and check
Questioning

Appropriate verbal, written and visual feedback
Reading is an essential strategy within lessons. You will see staff applying the three reading strategies of:
Experiences & Enrichment
Summer 2021/22 – Friday 17th June 2022 – Attended lectures on Spies, Assassins and Sabotage & Crime and Justice. This included visiting the cell block in Coventry University!
World of Sociology project in conjunction with Coventry University.
Enrichment – We had visitors from @covcampus on Oct 20th 2022 speaking with Year 10 and Year 12 students. They were asked to be a focus group for the new sociology project 'World of Sociology' that they are hoping to launch with schools across the city!
Guest Lecture – 11th July 2023 – Sociological Theories of Crime. Liam Miles – Visiting lecturer in criminology and Sociology. Birmingham City University.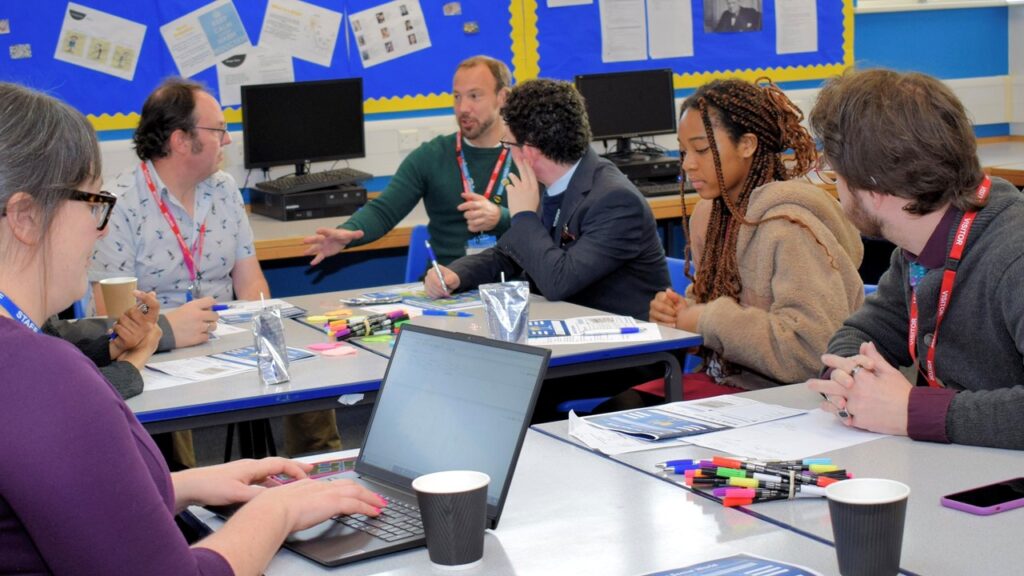 Destinations
UCAS Provider Name
University of Nottingham
Birmingham City University
King's College London, University of London
De Montfort University
University of Hertfordshire
Coventry University
De Montfort University
Aston University, Birmingham
Birmingham City University
UCAS Course placed
Law
Accounting and Finance
Psychology with a Year Abroad
Nursing with Registration (Adult Nursing)
Psychology
Adult Nursing
Nursing with Registration (Adult Nursing)
Law LLB
Law