---
Curriculum Intent
MFL at Blue Coat School intents to shape new thinkers with an ambitious curriculum distinctively centred around our Christian values. Languages is at the CORE of our curriculum and without it, one cannot make sense or communicate or share our understanding of the world around us.
The acronym CORE stands for:
Communication: we know that people acquire language by communicating with one another therefore we aim for our students to become great communicator in English, the language they learn at Blue Coat (French, Spanish or German) and if it applied their home language.
Openness: we enable our students to identify with the cultural richness of our school and share their identity with others in the community.
Relationship: with the option of learning three languages in our school, our students will be able to create new relationships and also build bridges
Expertise: BC students will develop their linguistic expertise. They will learn how to use their knowledge in their first language (English and /or home language) to a new language and respond positively to misconception.
We develop these linguistic skills by equipping all our students with the knowledge and skills to thrive and succeed in language learning; encouraging and inspiring them with quality first teaching, broadening their awareness of other countries and communities and providing opportunities for participation in a broad range of linguistic and cultural educational experiences.
Students joining BC will learn French, German and Spanish as either a novice, developing or an advanced student in MFL. The ability to communicate in the language (here French) and having the confidence to use it is one of the main goals in learning the subject providing the students with life skills that is valuable beyond their school education.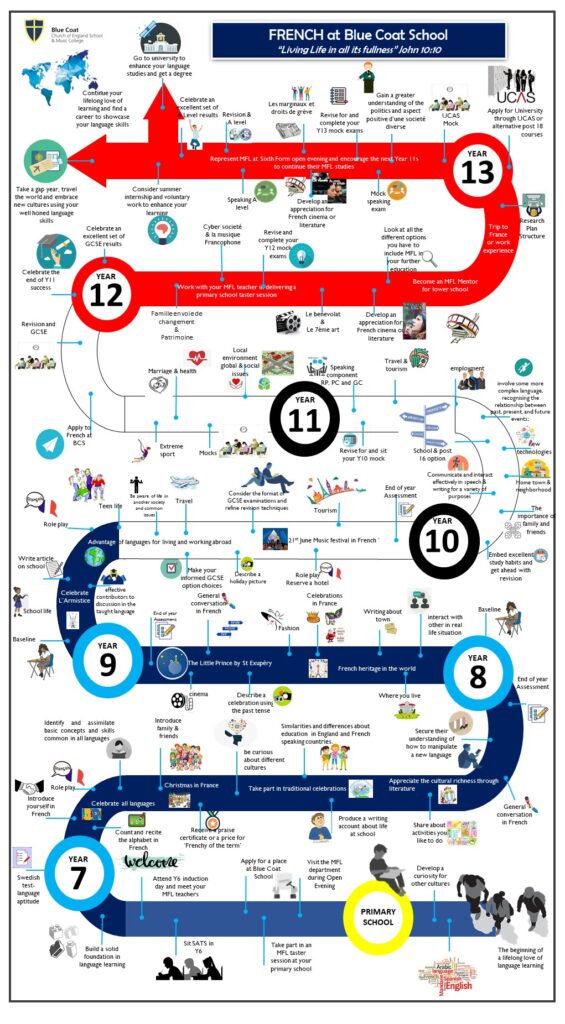 Teaching and Learning
In French we believe in delivering an ambitious yet highly inclusive curriculum to all. Our vision for Teaching & Learning is to ensure all students access the "full" curriculum and learn the breadth of content.
Our staff have high expectations of all pupils and focus on embedding our 3Rs:
Ready
Respectful
Responsible
All lessons focus on embedding the whole school Blue Coat approach:
Explaining and Modelling
Do & Practice
4forAll Toolkit leading to inclusive practice:

Key words/Reading
Use of time
Chunk and check
Questioning

Appropriate verbal, written and visual feedback
Reading is an essential strategy within lessons. You will see staff applying the three reading strategies of:
How can parents help?
Reading to pupils, online learning resources, BBC videos, age appropriate television series/documentary series, places to visit in holidays/weekends.
Regularly check their exercise book and have them to show you something there are proud of
Test them on their vocab and verb endings – using the list of the high frequency words, the French booklet
For grammar: get them to teach it to you and explain how it compares in form and use to English. It will show if you child grasped the formation of use of words (adjectives, adverbs, tenses…)
Encourage them to speak the language as much as possible, ask you child : "Tell me 3 things you did at school today in French.", have them to repeat it and ask them to add something new
Understanding how we learn is essential, share your own learning techniques with them for memorisation, revisions, reading, writing, speaking and listening skills
Support with them with their learning journey and ask them the areas for improvement from last time were
Support smart use of resources. Encourage your child to have all of their resources to hand – vocab book, dictionary (traditional or online), as well as their exercise book
Discourage your child to use online translator. Google Translate or simply inserting lumps of text into an online translate App is not developing any linguistic skills because the language produced is incompatible with the context of the learning and create miscommunication often spotted by the teacher and not by the student
Provide opportunities for them to use the language for real purposes to build confidence at home: DUOLINGO, with French friends, watching a French version of a film, listening to French music on or watching cartoons in French. At more advanced level your child can watch the news on an authentic French channel station (TV5 monde, ARTE, France 24, Euronews)
For success at GCSE, your child will need strong opinions on areas of today society you can have discussion and debate of various topics.
Where possible, support school trips which are tailored to enable students to embrace the foreign language and its cultures
Options
AQA GCSE French
AQA A Level French
Enrichment & Experiences
Recent/Upcoming trips include
International trips (Paris, Opal Coast)

Local visits (Warwick University, teach French in local primary schools, virtual tours in France)

Local or in school theatre performance all in French (ONETTI PRODUCTION)

GCHQ National Language Competition (Y9) is a national competition with GCHQ one of the three UK Intelligence and Security Agencies, along with MI5 and the Secret Intelligence Service (MI6): teams of up to 4 pupils working together to tackle a variety of fun, immersive, language-themed challenges hosted on a virtual platform
Impact
2022 Results
2022 GCSE – 70% Grades 9-4
2022 A Level – 100% A*-B
Destinations
University of Liverpool
University of Leicester
University of Oxford
UCL (Univesity College London)
Birmingham City University