---
Curriculum Intent
The intent of our English curriculum is to provide a challenging and ambitious journey of learning experiences for our students. We use a spiral curriculum in which skills and knowledge are established, embedded and added to as our students apply their understanding to new situations and texts. Our aim is to provide a sound basis in the skills of reading, writing and speaking and listening that underpin the study of English Language and Literature.
We want our students to enjoy stories, poetry and exploring their creativity through language and communication and our aim is for them be able to apply skills of written and spoken communication to new experiences, texts and contexts.
Our approach is structurally underpinned by our whole school curriculum, CHRIST values, reference to the KS3 and KS4 English National Curriculum and the objectives that inform A Level study.
Our goal is provide a challenging, thought-provoking curriculum for all learners regardless of prior attainment or ability. We want our students to leave school with confidence in their ability to communicate and to understand opinions and perspectives. Excellence in English would mean that each student leaves us with a sound grasp of these skills that they can take forward with them either into further study or employment.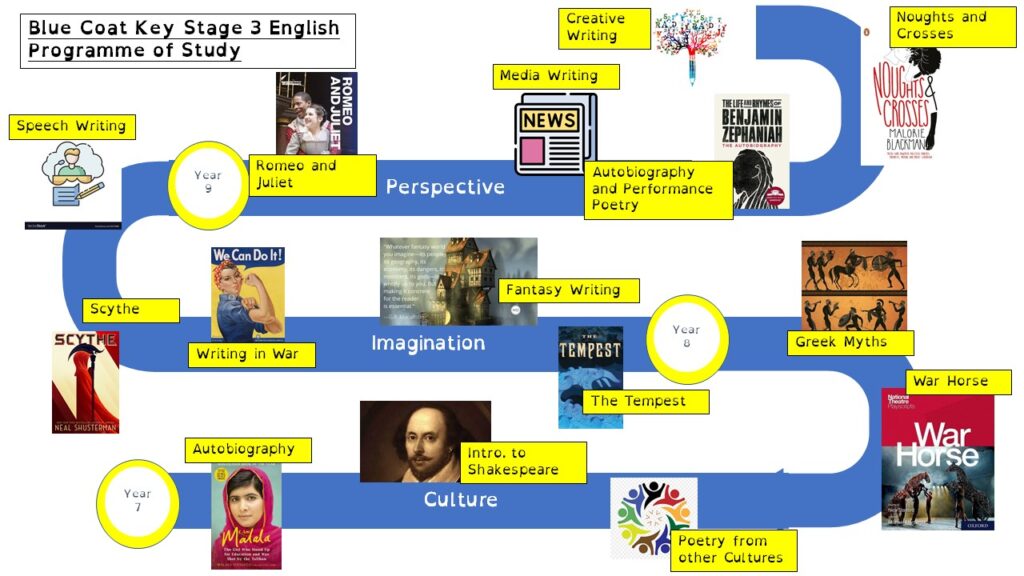 Teaching and Learning
In English we believe in delivering an ambitious yet highly inclusive curriculum to all. Our vision for Teaching & Learning is to ensure all students access the "full" curriculum and learn the breadth of content. 
Our staff have high expectations of all pupils and focus on embedding our 3Rs:
Ready
Respectful
Responsible
All lessons focus on embedding the whole school Blue Coat approach:
Explaining and Modelling
Do & Practice
4forAll Toolkit leading to inclusive practice:

Key words/Reading
Use of time
Chunk and check
Questioning

Appropriate verbal, written and visual feedback
Reading is an essential strategy within lessons. You will see staff applying the three reading strategies of:
Options
Edexcel GCSE English Literature
Edexcel GCSE English Language
Edexcel A Level English Literature
Edexcel A Level English Language and Literature
Eduquas A Level Media
Enrichment & Experiences
Extra-curricular Activities
Meet the Author Events
Book Club with Mr Collett in the Library
Creative Writing with Mr Panesar in Gorton (Summer 2)
Poetry and Creating Writing competitions
Drama Workshops
Theatre Productions