---
Curriculum Intent
Our intent is to shape new thinkers linked to the whole school curriculum, the school CHRIST values, KS3 national curriculum & the needs of employers. Our curriculum is intended to be at the CORE of the school life and stands for :
Communication: people acquire language by communicating with one others. Our students will become great communicator when they leave BC.
Openness: in language we will enable our students to open themselves to other cultures and share their identity with others.
Relationship: languages create new relationships and build bridges. – Expertise : our students will be able to become expert linguist by connecting their first language to the taught language and positively responding to mistakes.
We do this by equipping all our students with the knowledge and skills to thrive and succeed in language learning; encouraging and inspiring them with quality first teaching, broadening their awareness of other countries and communities and providing opportunities for participation in a broad range of linguistic and cultural educational experiences.
The ability to communicate in German and having the confidence to use the language is one of the main goals in learning the subject providing the students with life skills that is valuable beyond their school education.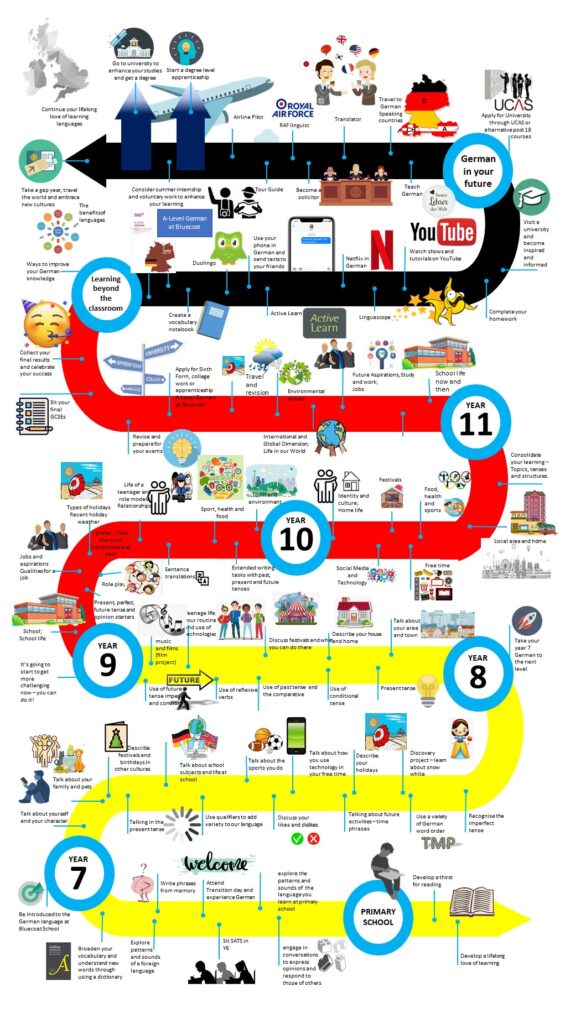 Teaching and Learning
In German we believe in delivering an ambitious yet highly inclusive curriculum to all. Our vision for Teaching & Learning is to ensure all students access the "full" curriculum and learn the breadth of content.
Our staff have high expectations of all pupils and focus on embedding our 3Rs:
Ready
Respectful
Responsible
All lessons focus on embedding the whole school Blue Coat approach:
Explaining and Modelling
Do & Practice
4forAll Toolkit leading to inclusive practice:

Key words/Reading
Use of time
Chunk and check
Questioning

Appropriate verbal, written and visual feedback
Reading is an essential strategy within lessons. You will see staff applying the three reading strategies of:
Options
AQA GCSE German
AQA A Level German
Enrichment & Experiences
Recent/Upcoming trips include
Year 8 – Birmingham Christmas Market
Year 9 – Residential Trip to German
Impact
2022 Results
GCSE 70% Grade 9-4
A Level 82% A*-B
Progress above the national and/or school averages at GCSE & A Level
Destinations
Of last years' cohort students the typical university destinations included, Coventry, Chester, Aston University, UCL and Manchester to study: Law, Psychology, applied Biosciences, Modern Languages and Sport and exercise science